Below are links to various journal articles, press items and publications the HII has produced or been promoted or mentioned in.  From peer-reviewed journals, to industry magazines and non-profit publications.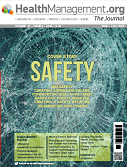 May 2015 – Big Data Initiatives to Support Next Generation Neuroimaging of TBI
February 2015 – Imaging Evidence and Recommendations for Traumatic Brain Injury: Conventional Neuroimaging Techniques
February 2015 – Traumatic Brain Injury Imaging Research Roadmap
The January 2015 issue of the ACR Bulletin published a feature article on the HII – Heading Toward the Future: The ACR Head Injury Institute works to advance the study of traumatic brain injury and bring the latest technology into the clinical arena.
November 2014 – Imaging Evidence and Recommendations for Traumatic Brain Injury: Advanced Neuro- and Neurovascular Imaging Techniques